Brierley Hill firm has licence revoked over rubbish pile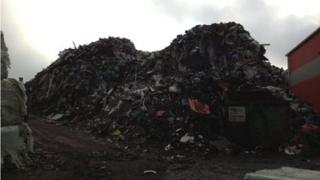 A company responsible for a huge pile of rubbish that it has repeatedly failed to remove has had its licence revoked.
Refuse Derived Fuel, in Brierley Hill, has been subject to six legal hearings ordering it to get the rubbish cleared.
It must now remove all remaining waste by February, the Environment Agency said.
The firm has said it cannot afford to transfer the waste, which is burned for fuel.
'Criminal offence'
In June, the firm was found in contempt of court for breaching an injunction which required part of the site to be cleared.
RDF's manager Robert McNaughton was sentenced to six months in prison, suspended until 23 December, for failing to reduce the pile.
People living nearby have complained about seeing dead rats outside the premises and in their gardens.
Mother-of-three Kim Jordan, of nearby Lindsey Place, said the rubbish mound had blighted her life since she moved to her home almost four years ago.
"It's just one huge mess," she said.
"The smell is disgusting and at night we gets rats and mice trying to get into the flats. You see them running across the road. People don't want to live here."
Andrew Forrest, 60, whose mother lives opposite the mound, said: "I don't think it's got smaller. If anything it's got bigger.
"Everyone is disgusted by the trouble it has caused. People have put their washing out to dry and come back to find dust all over their clothes. You can't wash your car either."
In a statement, a spokesman for the Environment Agency said: "Recently, as we believe that RDF is not competent to hold a permit, we have revoked the company's authorisation to operate the site.
"The notice further requires that RDF must remove all remaining waste from the site by 17 February 2014.
"Failure to comply with the requirements of the notice is a criminal offence."