Birmingham City Council bans words from emails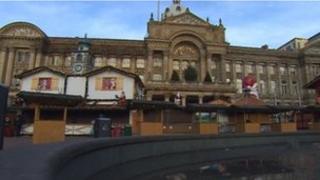 The words "commie" and "redneck" are among a list of 130 words banned by Birmingham City Council in its email system.
The list also includes racist and homophobic terms.
The filtering system prevents messages containing certain words from being received or sent internally.
Birmingham City Council said the use of the system was not uncommon, although the choice of words owed much to the software's US heritage.
"It happens to be a US software and therefore perhaps some words are being picked up by that software which would not normally be words we'd pick up if it was an English version," council Leader Sir Albert Bore said.
He added that the choice of words could be reviewed.
The list includes a number of sexual and anatomical terms, which might legitimately and innocently be used in messages.
Birmingham City Council said the terms were monitored regularly and new terms could be added or removed as required.
Responding to a Freedom of Information request from the Sunday Mercury newspaper, the city council said it had sent the current list of 130 words in the postal system to avoid its email filter.
The newspaper said many of the words could not be printed as they were racist, homophobic or otherwise offensive.
It suggested, however, that words such as fascist, Nazi and many others that could be considered offensive were not on the list of banned words.