'Resentful' ex-wife Nussrat Khatoon jailed for arson death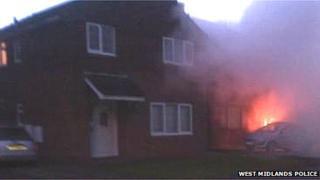 A "resentful and angry" woman who set fire to her ex-husband's house, killing a woman who was sleeping inside, has been jailed for 14 years.
Nussrat Khatoon, 39, of Cheshunt Place, in Kings Heath, Birmingham, admitted manslaughter and reckless arson.
Her accomplice Tina Andrews, 30, from Camelot Way, Small Heath, was sentenced to 10 years on the same charges.
Nusrat Begum, 36, died from smoke inhalation and burns after the arson attack in November 2012.
Police said Khatoon, in a grudge against her ex-husband, had also damaged cars and thrown paint at the house in the weeks following her divorce in September.
Khatoon and Andrews drove to Speedwell Road, Edgbaston, on 5 November 2012, in a car which was later found to have petrol and tapers inside it.
Det Ch Insp Sarbjit Johal, of West Midlands Police, said: "Sadly, Nusrat was caught up in circumstances totally unconnected to her and was simply in the wrong place at the wrong time.
"The fire set by Khatoon and Andrews, who knew people would have been trapped upstairs, turned into an impenetrable inferno.
"Khatoon was very resentful and angry and as a result of her and Andrews' actions, a completely innocent woman died."
Mrs Begum's brother, Gulfraz Ahmed, said: "We had only recently been reunited with Nusrat as she had been estranged from us living in Pakistan.
"The reason the fire was started had nothing to do with my sister, so it is terrible that she has to pay the ultimate price."