Tesco supermarket work begins in city centre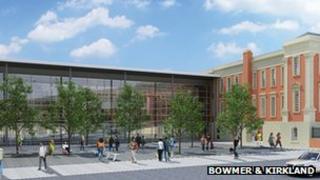 Building work begins later on a Black Country supermarket set to create "hundreds" of jobs.
Wolverhampton's former Royal Hospital site in All Saints will become home to a 80,000 sq ft Tesco supermarket when work is completed in 2015.
Store bosses have been planning a move to the Sutherland Place site for several years, but were stalled by planning objections.
A Tesco spokeswoman said: "We will create hundreds of jobs in the city."
In January, Wolverhampton bus firm Banga Buses objected to the plans on the grounds that Tesco's plans would disrupt the firm's services.
The objections were rejected at an inquiry, allowing work on the supermarket to begin.
A spokesman for Tesco said the development was a "big investment in the local community", which would be "a fantastic addition to the heart of the city".