Birmingham Museum Santa's grotto axed 'to save money'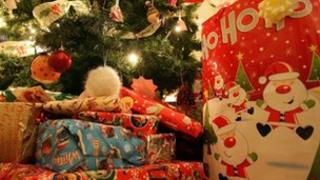 A Santa's grotto in Birmingham has been axed by a council-funded museum in a bid to save money.
The grotto, at Birmingham Museum and Art Gallery, has been operating for eight years but parents inquiring about it were emailed the news this week.
Angela Moss, 34, of Solihull, said her children were excited about going again and she was shocked by the decision.
"I know cuts have to be made, but do they really have to sack Santa?," the mother-of-two said.
"My children were just completely shocked by this email, as was I.
"We have been visiting this grotto for the last five years and my daughters were really looking forward to it again this year.
"They get excited for it every year. There has always been a huge crowd there to see Santa and have their photograph taken with him."
The council provides 63% of the museum's funding but has reduced the amount it gives by £314,000 this year.
A spokesman for Birmingham City Council said: "The decision to axe the grotto was made by Birmingham Museums Trust, not the council.
"The council has a range of Christmas activities that it is offering and supporting this year, including a Christmas Parade, the German Market and the successful return of an outdoor ice rink to the city centre".
A spokesman for Birmingham Museums Trust said the decision was "not at all an easy to make", but that scrapping the grotto was "the best thing to do".
The email to parents said "all museum spending" was currently being reviewed "in light of changing resources".
A spokesman for the museum said: "Because all programming at the museum is under financial review, staff did not want to go ahead with our usual Christmas attractions unless we were absolutely sure we would honour the traditions to the highest standards.
"This decision was not arrived at easily".