Marks and Spencer Longbridge store 'to create 350 jobs'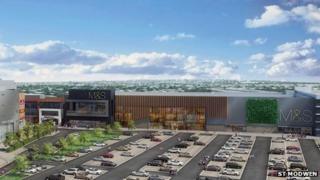 Up to 350 jobs will be created at a new store at Longbridge's former MG Rover factory site, developers have said.
The Marks and Spencer store would be part of the second phase of a new £1bn town centre.
Development firm St Modwen said subject to planning, work would start in mid-2014, with the new store expected to open by Christmas 2015.
M&S said the proposed 150,000 sq ft store would be one of its largest in the UK.
A revised planning application will shortly be submitted which will include proposals for 45,000 sq ft of additional shops and car parking, St Modwen said.
Two floors
The company, which acquired the 468-acre former MG Rover site, said it had created more than 3,500 jobs on site at Longbridge, which crosses the border of Birmingham and north Worcestershire.
St Modwen said the first phase of the town centre, opened in August, comprises an 80,000 sq ft Sainsbury's, a 75-bedroom Premier Inn, 24 shops, restaurants, 35,000 sq ft of offices and the £2m Austin Park, a green area named after Lord Austin of Longbridge.
M&S said the proposed store, over two floors, will create up to 350 jobs.
The company's regional manager Julie Ridley said it believed the planned store would "cater for the shoppers of south Birmingham and attract new customers from the M5 and M42 corridor".
At its peak, the MG Rover site employed 6,000 people before its 2005 closure.