West Midlands Police scraps A19 retirement policy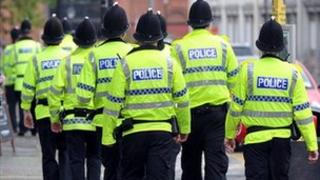 A regulation forcing police officers to retire after 30 years of service has been scrapped by West Midlands Police.
More than 550 officers have left the force under the A19 rule, which was introduced in March 2011.
The High Court ruled in June that A19 was "not unlawful" after an appeal by the The Police Superintendents' Association for England and Wales.
Chief Constable Chris Sims said the scheme had helped the force save about £100m.
He said: "The force faced an acute financial problem of needing to save £125m. About £100m or more of that has now been found with the majority coming from changes to staff.
"The only way we could make those changes at that pace was to use the regulation and I am delighted to get to the stage where it's no longer needed."
The force's use of A19 was "reviewed periodically", he said.
West Midlands police and crime commissioner Bob Jones said he "fully supported" the decision.
'A good thing'
Plans to recruit an extra 450 officers were announced by the force last month.
In addition, it announced it would recruit 100 police staff between 2014 and 2016.
Mr Sims said: "The big issue A19 created for us was the demographic profile of the force because we've not been recruiting, in affect, for four years.
"We're looking forward to bringing in new people to plug that gap that's been created."
Tom Cuddeford, from the West Midlands Police Federation, said retaining very experienced officers could "only be a good thing".
West Midlands Police said it currently had 7,262 officers after 559 retired because of the A19 regulation.
About 800 had left for other reasons, including transferring to other forces or retiring on medical grounds, it said.
Other forces that have scrapped the A19 rule in the past 18 months include Staffordshire and Devon and Cornwall Police.