'Cannabis scratch-and-sniff cards' given out by council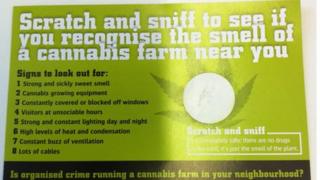 A council is giving out "cannabis scratch and sniff" cards to Birmingham residents in a bid to tackle cultivation of the drug.
Birmingham City Council is giving the cards to tenants in Druids Heath to help them spot cannabis farms.
Crimestoppers, the charity behind the scheme, said the cards were previously issued via police forces but Birmingham was the first council to try it.
A council spokesman said the cards did not contain cannabis.
Councillor Karen McCarthy said the cards were designed to help tenants recognise the "strong and sickly" smell of cultivated cannabis.
'Distinguish the scent'
She said the cards also told residents to look out for covered windows, constant lighting and the buzz of ventilation.
She added the council wanted to take a "zero tolerance" approach to tenants who grew cannabis.
According to West Midlands Police, in the past 12 months cannabis farms in the Brandwood area have been raided and drugs with a street value of £431,100 recovered.
Sgt Karen Hunn, from West Midlands Police, said cannabis farms could leave local communities feeling unsafe.
A spokesman for Crimestoppers, which piloted the scheme in March, said it had led to 34 cannabis factories being closed down across the UK.
She said "A lot of people are aware of the smell of cannabis when connected with individual use but the smell of cultivated cannabis is quite different.
"The cards help people distinguish the scent and report it."