Birmingham bus lane drivers get nearly 60,000 fines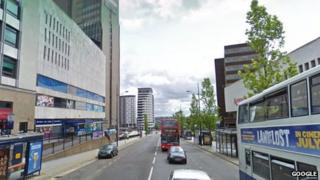 Nearly 60,000 fines were handed out to motorists for driving in bus lanes in Birmingham over just 11 weeks, the council has revealed.
Responding to a Freedom of Information request from the Birmingham Mail, the council said it had issued 58,582 fines to drivers since cameras were introduced in the Priory Queensway area, yielding up to £3.5m.
Motorists said signs were misleading.
But the council said only a "minority" of motorists had broken the rules.
'An absolute joke'
Driver Ben Cheney, from Sutton Coldfield, who is appealing against his fine, said: "I'm in favour of bus lanes but the Priory Queensway one is an absolute joke.
"There is not one sign that tells you you can't go down there and, once you've made that left turn, you can't escape the bus lanes.
"I believe it is a trap."
Another driver said he had received five fines during the two days his son was in Birmingham Children's Hospital - some offences taking place within minutes of each other.
"I have no problem with bus lanes," he said. "However, they have got to be correctly signposted."
Disabled driver Maurice Abney-Hastings, from Alcester, was fined £180 for three offences on the same day.
He said he had decided not to take the train into Birmingham because of difficulties with access at some stations.
He emailed the council to explain his circumstances but, despite paying his fine promptly, he was charged £60 for each offence, rather than the discounted £30. He said he had received no response or explanation from the council.
"It's totally put me off going into Birmingham and I'm putting off as many other people as I can," he said. "A council that is run with that kind of arrogance is unbelievable."
However, Councillor Tahir Ali said he did not believe the cameras were unfair.
Mr Ali, who was behind the introduction of the 10 cameras in September, said he planned to roll them out to bus lanes in Birmingham's suburbs.
"The vast majority of motorists do abide by the rules," he said.
"I've been told the signs meet national standards and they are legal.
"Motorists need to be diligent when they are driving and take notice of the restrictions in place."