£20m West Bromwich underpass 'closed for resurfacing'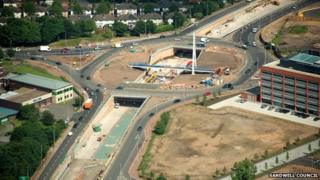 A £20m underpass in West Bromwich is to close for resurfacing, just over a year after it opened.
The underpass on the A41 dual carriageway will shut from 9-16 December, following a council inspection.
Sandwell Council said it had found the road surface on The Expressway fell below the required standard.
It said the work was being carried out by the original contractor at no cost to the council.
Councillor Maria Crompton said: "It is important all parts of the junction are of the highest standard and so the contractor must replace areas of surfacing that have not passed our tests.
"There will be no cost to the council as it is being met by the contractors who carried out the original work.
"We will ensure any inconvenience is kept to a minimum."