Rooney boots and Ali shorts in Tommy Scragg fraud sale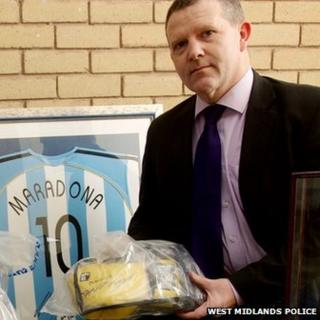 Boots worn by Wayne Rooney in the 2007 FA Cup Final and a signed pair of Muhammad Ali's shorts, seized from a Solihull conman, are to be sold by police.
The items belonged to Thomas 'Tommy' Scragg, who was jailed in July 2012 for his part in a £34m tax fraud.
Police also took diamond watches, gold cufflinks and jewellery and believe the total haul is worth about £675,000.
The auction, on 12 December, will raise money to be used for public spending.
Bidders can see the items in person at Wilsons Auction House in Newtownabbey, near Belfast, or can bid remotely.
Scragg, from Hockley Heath, was jailed for a total of 17 years following three separate fraud convictions against HM Revenue & Customs (HMRC).
Police said it was one of the longest sentences in British criminal history for fraud.
The 57-year-old's Wolverhampton-based businesses stole tax through PAYE payments between 2002 and 2008.
Scragg and a business partner, Paul Phillips, set up several payroll companies to collect PAYE payments and VAT on work, which was not passed onto HMRC.
Instead, the money was sent to a second layer of fraudulent companies to be laundered.
HMRC investigators said the workforce was paid cash in hand without any tax deductions.
Phillips, from Ashbourne, was found guilty of conspiracy to cheat HMRC and money laundering and was sentenced to nine years in prison.
Det Sgt Derek Tinsley, from West Midlands Police, said: "Tommy Scragg thought he had everything; the money, the lifestyle and the celebrity friends.
"But he lost it all when the law finally caught up with him."