Clock ticking for Ladywood's £12m missing millionaire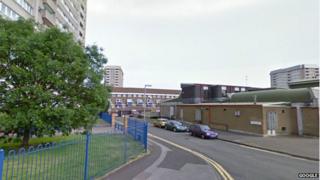 The clock will soon stop ticking for the owner of a missing £12m lottery jackpot ticket bought in a Birmingham suburb.
Lottery operator Camelot says the ticket for the 31 May draw was purchased in the Ladywood area.
The winner has until 23:00 GMT to claim the jackpot, or the money will go to charity.
Ladywood is one of the most deprived constituencies in the country, with officially the highest rate of unemployment in the UK. More than 8,500 people in the area claim Job Seekers Allowance.
Average house prices in Ladywood are £115,538 - meaning the lucky winner could buy 104 of them.
The BBC spoke to several Ladywood residents and shopkeepers as the deadline approaches.
Danny Kilgallon, 57
"That ticket could be absolutely anywhere, couldn't it?" Mr Kilgallon said. "It could be blowing down the street or in somebody's bin.
Mr Kilgallon, like most residents, began a frantic search for the winning ticket when the numbers were announced in May.
"All I know is, I haven't got it," he said. It is just bizarre that in six months nobody around here has claimed it."
Having the odds stacked against him hasn't hindered Mr Kilgallon's plans of how he would spend the money if he found the ticket.
"I'd move out of Ladywood, I think," he said. "I've been here in Ladywood for 57 years, so maybe I would move somewhere else. Perhaps to Harborne.
The winning ticket is numbered JRG437445, Camelot confirmed. If unclaimed, every penny will go to charity.
Iris Walcott, 72
That would be perfect for Iris Walcott, 72.
"I would give it all to charity," the pensioner said. "What on earth would anybody want that much money for? You'd have trouble spending the interest it was gaining in the bank, let alone £12m.
"People are too greedy. It's charities that need money. I'd give local charities every penny."
Ladywood shopkeepers say they are currently dealing with an influx of calls from residents, with requests for them to trawl CCTV for a glimmer of hope that they purchased the ticket, to anonymous requests for lottery information.
Amarjit Singh, shopkeeper
Amarjit Singh, who runs Ladywood Supermarket, has been fielding such requests alongside his shop-running duties.
"People are panicking, that's what it is," he said. "They realise they might have purchased the ticket, that they may have purchased it at my shops, and they're phoning us up.
"I've been asked by one customer to check the CCTV for when the ticket was purchased in May. I haven't done that. It wouldn't be practical. I've told them to contact Camelot.
"I wouldn't want the money, to be honest. What do you do with that much money? It would be a nightmare."
Patrick Lisoire, Camelot
Patrick Lisoire, from Camelot, said it was very rare for lottery prizes to go unclaimed, although some people stored tickets up and only checked them after several months.
He said: "This is very uncommon. But we have had people contact us in the final 24 hours to claim their prize, so it is still possible the winner will step forward."