Nine Birmingham leisure centres face closure through council cuts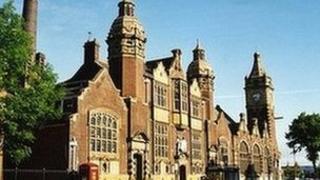 Nine leisure centres and swimming pools could shut as part of Birmingham City Council's plans to save £6.8m.
Instead, six new leisure centres will be built and run privately.
Among those earmarked for close is Moseley Road Baths, due to shut in September 2015.
Council leader Sir Albert Bore said he understood there was an "emotional attachment "to the building. But he said it was old and new facilities were needed.
A replacement pool will be built in nearby Sparkhill.
'Council spin'
Other plans include transferring 10 sites, including Billesley Tennis Centre, and Bartley Green and Great Barr community leisure centres, over to the community, schools or other providers, the council said.
Six health and well-being centres will be created at former leisure centres which will target specific health issues, like obesity, in more deprived areas with funding from the NHS.
All proposals are due to be discussed at a cabinet meeting on 16 December.
In February, the council approved its £102m savings plan, leading to the likelihood that about 1,000 jobs will be cut over two years.
Moseley Road Baths opened in Balsall Heath in 1907 and is the oldest of three Grade II* listed swimming baths operating in Britain. It has two pools but only one is currently open to the public.
Supporters of the baths have been trying to raise money to restore the building.
Rachel Gilles, secretary of Friends of Moseley Road Baths, said the building was neglected but it had not been well maintained by the council.
She said: "If they close the building then it shows the council's contempt for the area.
"Yes, the building is neglected, we know that, but it's been neglected by the council for decades and now they say it costs too much to repair.
"If they shut Moseley, then the council won't meet the demand for swimming locally, schools will not be able to go."
Moseley resident Mark Allen, who has been using the baths for nearly two years, said the community would lose out if they closed.
"I understand the facilities are old, but it's people's health and fitness which is very important, having baths open to the public," he said.
"The community will miss coming together and being able to come out and swim any time of the year."