Injured man in Smethwick road 'was hit and run victim'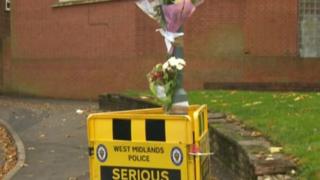 A severely injured man who later died after he was found lying on a West Midlands road, was the victim of a hit-and-run driver, police have revealed.
The 75-year-old, who has not been named, was found in Beakes Road at 21:30 GMT on Saturday.
West Midlands Police said they now believe the man was struck by "a large vehicle".
Insp Paul Bennett said: "Whoever was driving must have known they had hit a person."
He added: "Rather than stop to help, they left him in the road to die.
"At this stage we believe he has been struck by a large vehicle, possibly a 4x4 car or a van.
"The vehicle itself would have sustained collision damage and I want to hear from anyone who may have information that could lead us to the vehicle and driver involved."