John F Kennedy memorial bears 'wrong date of presidency'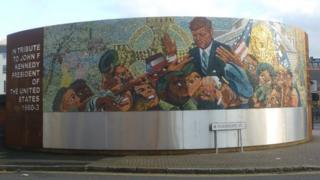 A John F Kennedy memorial in Birmingham showing the wrong date for the start of his presidency must be changed, a charity has said.
The tribute, unveiled in February in Digbeth, states he was US president in 1960, but his inauguration was in 1961.
Irish In Birmingham said the council had not responded to an application to change the date.
A Birmingham City Council spokesman said the dates included "the period when Kennedy was president-elect".
The £100,000 Italian glass mosaic, which measures 18ft by 40ft (5m by 12m), is a replica of one that was put up near St Chad's Cathedral in the city centre in 1968.
That work, which also stated Kennedy was president from 1960 until his assassination in 1963, was removed and partially destroyed in 2007.
The city's Irish community raised £5,000 to pay for the 1968 mosaic and had petitioned the council to have a replica created by Oliver Budd, the son of the original artist Kenneth Budd.
'People do notice'
John Fitzgerald, 81, who runs Minstrel Music in The Irish Centre, said he was one of several residents who had donated money towards the cost of the original mosaic.
He said he understood that "people do make mistakes but these details do matter".
"They should have got this right and they should now be looking to put it right."
Irish In Birmingham, which petitioned the council to erect the replica memorial, said the mistake had been spotted shortly after it was unveiled.
Chief executive Maurice Malone said the organisation had "submitted a planning application five months ago to change the dates and we're waiting for a response from the council".
"People do notice it - they take photographs of the memorial and pick up on the dates.
"Several people have mentioned it to us, so hopefully it will be changed soon."
Birmingham City Council said the replica mosaic had been financed by the developers who removed the original.
A spokesman said the dates referred to "the period when Kennedy was president elect as well as president".
She added: "Both the original JFK memorial, which was installed in 1968, and the current memorial unveiled earlier this year have the dates 1960 - 1963."