Euromillions: Hunt on for Birmingham winner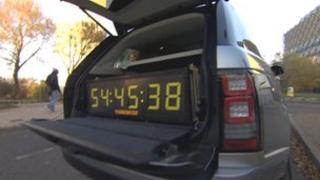 The owner of a winning £12m lottery ticket has just two days to come forward and claim their prize.
The Euromillions Millionaire Raffle ticket was bought in the Ladywood area of Birmingham and has not been redeemed since the draw, on 31 May.
The winner has until 23:00 GMT on 27 November to claim the prize, or lose it.
Lottery operator Camelot is setting up a clock in Centenary Square later to show the countdown.
Patrick Lisoire, from Camelot, said it was very rare for lottery prizes to go unclaimed, although some people stored tickets up and only checked them after several months.
The winning ticket, JRG437445, was sold in one of five shops in Ladywood.
The owners of one of them, the Ladywood Supermarket, said people often forgot about the raffle number at the bottom of their ticket.
They said some people had been in touch asking them to check the CCTV to find out if they had left their ticket at the shop.
If unclaimed, the money will go to charity.