Protesters call for 'urgent' speed action on streets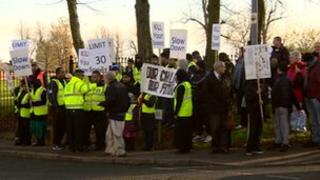 Protesters are calling for "urgent" traffic-calming measures after two deaths on their streets in 18 months.
About 40 residents joined members of the Sampson Road Residents' Association in Sparkbrook to wave placards calling for speed bumps to be installed along Sampson Road and Kyotts Lake Road.
The most recent death came in October, when 78-year-old Saleh Dalie died there after being hit by a delivery van.
His son Amwar said: "It needs urgent action before more lives are lost."
Mr Dalie said: "We are still all upset about my father's death and it is still hard to take in.
"We are protesting to urge people to slow down before more lives are lost."
'Reduce fatalities'
Birmingham City Council has urged the protesters to back their 20 is Plenty campaign which aims to bring many city street speed limits down to 20mph.
A spokesman for the authority said: "Research shows that at 30mph just 50% of people survive a collision.
"At 20mph that figure increases to 90% so if we were to do this we could dramatically reduce the amount of traffic fatalities.
"I would urge Sampson Road residents to support the '20 is Plenty' campaign."
Javit Khan, vice chair of the Residents' Association, said: "We need something done now.
"I understand that there are talks about reducing street speed limits to 20mph, but that will take time and we want something done now before somebody else gets killed."