Birmingham needle attacks: Police examine six more cases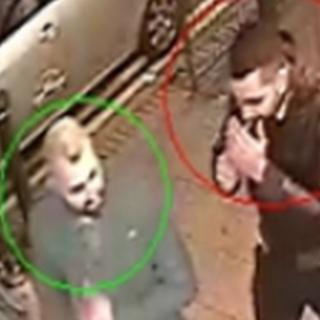 Police investigating five needle attacks on women in Birmingham have had reports of six further incidents which could be linked to the same suspect.
Officers said the six fresh reports date back six months.
A new CCTV image of a man police believe could help them track the suspect has also been released.
It was taken about 03:00 BST on Sunday 3 November, when a 30-year-old woman felt a sharp pain in her thigh - later confirmed as a puncture wound.
A picture of the suspect was released by officers on Friday.
Katie Wakeman, from Longbridge, said she was stabbed with a needle while on a night out on Broad Street in March 2012.
"We were getting a taxi from outside a kebab shop on Broad Street. All of a sudden I felt a sharp pain and a stinging sensation," she said.
"At that point I screamed and started crying, but I didn't know what had happened.
"It wasn't until the following morning when my partner asked what had happened that I saw a mark that had scabbed over."
Ms Wakeman went to accident and emergency, before reporting the matter to the police. She was later given the all clear after being tested for HIV.
'Strange offences'
A total of 11 women have now come forward saying they had suffered similar attacks.
Det Insp Julie Woods said: "We have received several calls with information following the appeal on Friday and are currently following these up.
"We have also received reports of six further attacks going back over the last six months which could possibly be linked to the same suspect.
"However, we are still keen to hear from anyone who has any information about these incidents and who recognises either of the men in the CCTV images.
"These are strange offences and the motive at this stage is unclear, but we do not underestimate the anxiety and stress that the attacks can cause."
'Beyond comprehension'
Police have increased patrols in Broad Street and around the city centre.
Business owners said the attacks were "sick" and added their staff had been alerted.
Mike Olley, manager of the Broad Street Business Improvement District (BID), said the attacks, which the police said took place at night, had not deterred people from going out.
"We have up to 50,000 people come out on Broad Street on a Saturday night and those figures have not dropped," he said.
"What has happened is beyond comprehension. From what I can gather, it's some sick-minded idiot going about with a needle who gets some sort of satisfaction from attacking people.
"Over the past few days, our staff and doormen have been alerted and we're working closely with the police over this."
He added that in a survey carried out by the BID in July, 93% of visitors to Broad Street had felt safe.