Wolverhampton New Cross 'must improve staffing', CQC says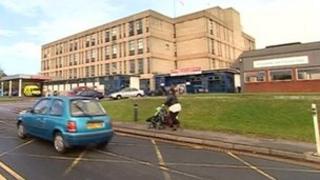 A West Midlands hospital must increase the number of midwives and improve staffing around surgical care and older people, inspectors say.
New Cross Hospital in Wolverhampton must also improve its infection and hygiene control procedures, the Care Quality Commission (CQC) said.
The hospital was one of the first to be inspected under broader and more robust terms introduced this summer.
Five keys areas were tested throughout the hospital, the CQC said.
'Caring and kind'
Changes to the CQC remit now mean the entire hospital is checked with tests including how caring, responsive and effective services are, a spokesman said.
The inspection team included doctors, nurses, hospital managers, trained members of the public and CQC representatives who spent three days at the hospital in September.
Inspectors also visited unannounced on three occasions.
"Overall the report concludes that the Royal Wolverhampton NHS Trust is generally providing patients with safe and effective care," the spokesman said.
"However, there are a number of areas for improvement. There was a shortage of midwives and concerns regarding staffing in surgical care and wards caring for older people.
"Patients and their relatives said that staff were caring and kind and this was observed by the inspection team."