Mother appeals to husband to bring children back from Libya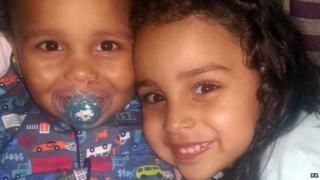 A mother-of-two has appealed for her Muslim husband to bring their children back home after he took them to Libya claiming the UK was "too Western".
Priscilla Micalleff, 30, said she felt "lost and empty" without daughter Aisha, aged four, and son Zakaria, aged one, living in their Birmingham home.
She said husband Jamal Dgham had become increasingly devout. He took them out on 29 September but did not return.
She later received a text from him saying: "Thank God we are in Libya".
A court order was made last month stating that 35-year-old Mr Dgham return the children to the jurisdiction of England and Wales.
'Need their mother'
Last week a High Court judge gave permission for the case - held in private in the Family Division of the High Court - to be made public in the hope that publicity will help secure the children's return.
Ms Micalleff, a Catholic, told BBC News that she desperately missed the children but believed they are living at their grandmother's house in Libya.
She has spoken to them several times by calling the property but has been unable to have direct contact with her husband.
"I think about them all the time," she said.
"They are very young and they need their mother.
"I feel lost and empty. Even though they are with [their] family, they don't know what the children are like and what they need.
"My daughter sounds sad and she cries when I speak to her."
The couple, who met in Malta and married in 2001, were about to separate when Mr Dgham took the children.
'Like a slave'
They first came to the UK in 2008 before returning again to live in 2010.
He had previously told his wife he wanted his children to be raised as devout Muslims and came to the UK believing there to be more mosques and because he felt the religion was widely recognized.
But he gradually changed his view and said he believed the UK was too western and he did not want his children to be influenced that way, Ms Micalleff said.
"I was happy for the children to be brought up as Muslim and I encouraged some things but he really changed... it was like I was his slave," she said.
"He would put pressure on me to convert, so much pressure.
"I had no reason to think he would do this."
Ms Micalleff's lawyer, Pam Sanghera, said there was no legal duty on Libya to help return the children.