Birmingham pub bombings: Paddy Hill hands over evidence to family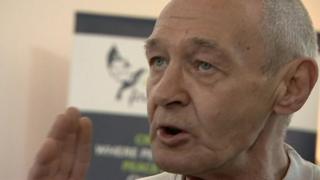 A man wrongly jailed over the Birmingham pub bombings says he hopes legal papers from his trial can help victims' families find out what really happened.
Paddy Hill, one of six convicted over the blasts which killed 21 people, recently met victim Maxine Hambleton's family for the first time.
He agreed to hand over all his papers to help them with their inquiries.
The family is campaigning for the investigation to be reopened.
Mr Hill urged people to sign a petition calling for a new inquiry.
Ms Hambleton was 18 when she was killed by one of two bombs that exploded at two pubs in the city centre 39 years ago.
Speaking to BBC WM Mr Hill said: "Yes of course I am an ally [of the family] because we both have one thing in common; a big vested interest in finding out the truth."
He said he liked to think that, having handed over the evidence, the family knew more now than they did before.
Mr Hill was one of six men from Northern Ireland convicted of the attack in 1975
He was freed by the Court of Appeal in 1991 after their convictions were ruled unsafe.
'Don't underestimate impact'
"I can't understand the apathy of the people of Birmingham," Mr Hill added.
"If anyone should want to know the truth surely it's them."
More than 10,000 documents and exhibits relating to the case have been collated and assessed by police.
The rest are expected to be completed by spring next year.
Ass Ch Con Marcus Beale said: "We don't underestimate the impact this continues to have on victims and their families.
"But it has long been our position that we would reopen the investigation if significant new lines of enquiry came to light."
Mr Hill said the government at the time had helped to identify him and the other five people who were wrongfully convicted.
Describing the Birmingham Six as "sacrificial lambs", he said: "[The government at the time] needed someone to quell the public outcry. We were the ones selected by the government."
In response, the Home Office said it was up to the police to carry out any investigation.
Speaking during an earlier hearing in Parliament, Security Minister James Brokenshire said: "The 1974 Birmingham pub bombings were an appalling act of murder and I fully appreciate the continuing desire of the families of the victims to obtain justice."