Noddy Holder to be considered for freedom of Walsall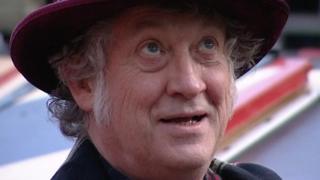 Glam rocker Noddy Holder could be awarded the freedom of Walsall, where he was born and brought up.
Walsall Borough Council voted unanimously in favour of plans to consider giving him the award at a meeting on Monday night.
Councillor Pete Smith, who tabled the motion, said the freedom was well-deserved.
Other West Midlands celebrities to have similar honours include Frank Skinner who has the freedom of Sandwell.
Lenny Henry has already been awarded the freedom of Dudley.
Mr Smith said: "I think it would lighten things up a bit, what with all this doom and gloom about council cuts and all that.
"[Holder] is probably the best-known person from Walsall, and since [the song Merry Xmas Everybody] came out 40 years ago he has done a lot for charity."
The Local Government Act 1972 allows for "honorary freemen or honorary freewomen".
It confers no rights or privileges and is given to people of distinction.