Wolverhampton Central Baths closure 'makes mockery of Olympic legacy'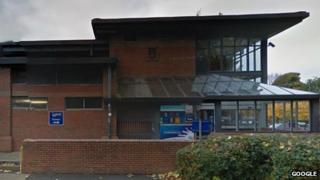 Plans to close Wolverhampton's Central Baths make "a mockery" of the Olympic legacy, campaigners have said.
The city council is seeking a private operator to run the eight-lane, 25m-long pool. If it fails to find one, it could close in March.
The council said it cannot afford the £300,000 a year it said it costs to run the pool.
But some residents said the decision was "irresponsible" and could damage the health of people in the city.
Jazz Uppal, who said he uses the pool at least three times a week, said: "Where has the Olympic legacy gone? You tell me.
"If this goes, the nearest pool is five miles away. There is a swimming club at the Central Baths, they hold galas there. It's never empty.
"Where will people go? My wife, kids and I are all regular swimmers. People's health and fitness will suffer if the council goes ahead with this.
"If the council needs to save costs, why is it spending millions refurbishing the civic centre?"
'Likely to close'
According to figures from Wolverhampton City Council, the pool had 126,634 visitors in 2012, compared with about 400,000 at its other two leisure centres.
However, Carol Bailey, who swims at the pool four times a week, said it was closed for five months of that time.
She said she had gathered 4,000 signatures on a petition to try to save the pool.
"The more people participate in sport, the less obesity and ill-health we have in this country," she said.
Andrew Johnson, cabinet member for resources, said the council had to save £98m over five years.
He said: "Because of the scale of the cuts, we are trying to make our leisure facilities break even. The Central Baths is not achieving this.
"We are looking for a private operator to take over the running of the pool but if we can't find that, it's very likely it will have to close."
He said the refurbishment of the civic centre was costing £15m but other offices were closing which would save the council £500,000 a year.
People can have their say on the potential closure of Wolverhampton's Central Baths as well as other planned savings by the council at a meeting in the city on Monday.
Council representatives will be at the meeting at Newhampton Arts Centre in Dunkley Street at 19:00 GMT.