Father Jamal Dgham sought after taking children to Libya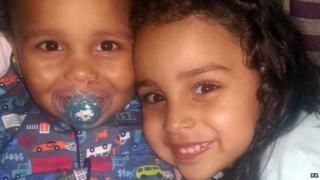 A Muslim father took his children from their Birmingham home to Libya after telling his estranged wife that the UK was "too Western", a lawyer has said.
Jamal Dgham, 35, is "unlawfully keeping" daughter Aisha, aged four, and son Zakaria, aged one, in Libya, their mother's solicitor says.
They said the children were being kept in breach of a court order made in England.
The October 2012 order calls for Mr Dgham to return the children to the UK.
A High Court judge has now given permission for the details of the case - held in private in the Family Division of the High Court - to be made public in the hope that publicity will help secure the children's return.
'No communication'
Solicitor Pam Sanger, representing the children's mother Priscilla Micalleff, 30, said: "These proceedings are brought by the mother and arise from the father's unlawful retention of the children in Libya.
"The father was directed to return the children to England and Wales, but has not complied with this order."
She said Aisha was born in Malta and Zakaria in the UK, adding: "The father is a practising Muslim. He informed the mother that he wants his children to be raised as devout Muslims.
"He slowly changed his view and believed the UK to be too Western and he did not want his children to be influenced against being devout Muslims."
She said the couple had accepted their relationship was over, but Mr Dgham "vanished" with the children in September 2012.
Miss Micalleff contacted police and took civil legal action, Mrs Sanghera said, and in October a judge ordered Mr Dgham to return the children.
"The order was served on the father by email," Mrs Sanghera said.
"No email delivery receipt was received, but he contacted the mother to acknowledge receipt of it.
"There has been no further communication between them and the mother is confident the father remains living in Libya at his mother's property, with the children."