Plans to close seven Dudley children's centres to save £2.3m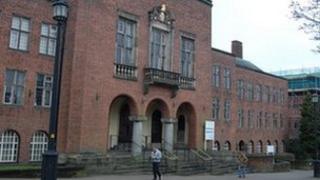 The number of children's centres in the Dudley area could be cut from 20 to 13 in a bid to save a council £2.3m.
Dudley Council is considering the move as part of a "major restructuring" of its children's service.
The centres provide support for families with children aged up to five. Around 15,000 children have access to children's centres across the borough.
The authority has not yet said which centres are at risk but a consultation on the plans will last until 3 January.
Councillor Tim Crumpton, cabinet member for children's services and lifelong learning, said the proposal was in response to "unprecedented" government cuts.
He said: "We are launching a consultation process today that I want to emphasise is open and honest.
"We face unprecedented cuts in funding across all of our public services and it is with a great deal of sadness that we are putting forward proposals to reduce the number of children's centres and the service that we provide.
"This is not a course of action that any of us in the cabinet would want to take but the cuts of millions of pounds in funding to the council mean we face extremely difficult decisions."