Aiden Elmore jailed over Willenhall flat fire murder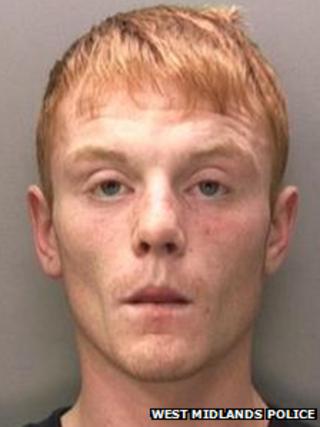 A man who killed a pensioner when he set fire to a block of flats has been jailed for at least 21 years.
Aiden Elmore set fire to wheelie bins he had used to barricade the exit of the flats in Willenhall in the West Midlands.
Victor Moore, 68, died after becoming trapped in the foyer.
Elmore, 20, was convicted of murder and two counts of arson with intent to endanger life following a trial at Wolverhampton Crown Court last week.
Judge John Warner said Elmore had created a scene of "fear and panic" in which people were heard screaming and were forced to escape through windows of the Southey Close flats.
'Horrific fire'
Sentencing him to life with a minimum tariff of 21 years, the judge said: "Quite what your motive was for what you did remains a mystery to me.
"It was purely a matter of chance that Mr Moore was the only person to lose his life in that horrific fire."
The court heard Elmore, from Essington Road in Willenhall, was on bail for an assault charge at the time of the arson on 8 October.
As well as the flat fire, he started two garden fires in a nearby street and another blaze at the home of his ex-partner's mother on the same night.
Elmore had been drinking and taking drugs after splitting up with his girlfriend, the court heard.
Fifty people were evacuated from the flat fire. Some jumped to safety from windows, including one woman who broke her ankle.
One man who jumped, Brian Ball, 66, told the BBC he was "locked in" and "totally trapped".
He said: "I was fast asleep and then when I woke up, I flicked the light on and a light went out and then all I could hear was all bangs and booms.
"My door was absolutely red hot. It's a wooden door...there was only one way out. That was jump."
In a victim impact statement read to the court, an unnamed relative of Mr Moore said: "There are no words that will describe how my family feel and he did not deserve to die in the way that he died."
Judge Warner commended the bravery of two gas engineers, a police officer and a member of the public who attended the scene.