University of Birmingham sets up forest institute with £15m gift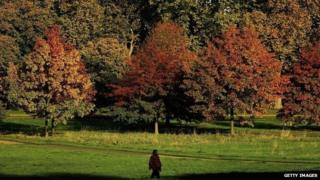 A new institute to research the effects of climate change on woods and forests is to be set up at the University of Birmingham.
Funded by a £15m donation from former academic Professor Jo Bradwell, the university said it would be a "unique world-leading centre".
It will be the first of its kind in Europe, according to the university.
The institute is expected to feature laboratories as well as developing field equipment.
The university said the donation - thought to be one of the biggest given to a UK university - would allow it to research how UK forests respond to the combined threats of climate change, invasive pests and diseases.
Prof Bradwell, a former professor of immunology at the university, said: "The UK has the lowest woodland cover of any large, European country because of deforestation over the centuries.
"What little we have remaining is now under serious threat from climate change and imported tree diseases.
"The new forestry institute will increase our understanding of these challenges in order to help planners, owners and foresters maintain and improve the health of our woods."
Professor of atmospheric sciences Rob MacKenzie said scientists would study both the split-second biochemistry and the decade-long ecology involved in the health of forests.