CCTV image released of Wednesbury dog attack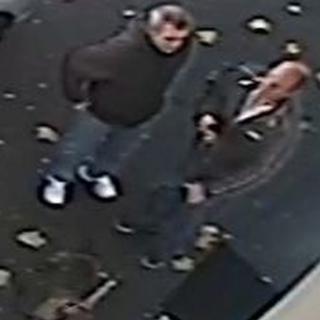 A CCTV image of two men whose dog attacked a woman as she walked across playing fields in the West Midlands has been released by police.
The woman, 41, was bitten on the arm by what police said was a Staffordshire bull terrier while she was walking her own dog in Wednesbury.
West Midlands Police said the woman was recovering at home following surgery.
The force has appealed for witnesses to the attack, which happened near Richard Williams Road on 26 October.
The woman told police the dog had jumped up and tried to bite her Jack Russell as she was leaving the playing fields.
'Out of control'
She told officers one of the men restrained their dog, but it escaped and bit her.
One man is described as white and about 5ft 6in (1.67m) tall and of thin build, with a shaved head. He was in his late-40s to early-50s and was wearing blue jeans.
The other man was also white but shorter at about 5ft 3in (1.6m) tall, of large build, with grey spiked hair and was thought to be wearing blue jeans and a black coat.
Sgt Leighton Shingles said: "In trying to protect her dog, the owner has been the victim of a vicious attack.
"It's against the law to let a dog be dangerously out of control in a public place and I would urge the community to come forward with any information which may assist the investigation."