Wolverhampton hospital agrees £6.5m birth liability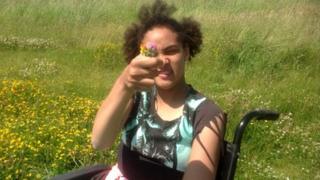 A teenager with cerebral palsy who suffered complications at birth will have paid-for care and support after a hospital admitted liability.
Olivia Banks, 15, from Parkfields, Wolverhampton, was starved of oxygen during her birth at the city's New Cross Hospital in 1998.
Royal Wolverhampton Hospitals NHS Trust has agreed a settlement worth more than £6.5m to pay for her life-long care.
Her mother Marlene said it would allow her "as full a life as possible"
'Tremendous love'
When Olivia was born the umbilical cord was wrapped around her neck and she was delivered blue and not breathing.
She was diagnosed with cerebral palsy shortly before her first birthday.
She now attends a specialist school but is unable to walk unaided and will require 24-hour care for the rest of her life.
Mrs Banks said: "She has limited communication skills and she's being taught sign language, but she understandably gets very frustrated when she's not understood."
"Olivia did not have an easy childhood and we don't know what the future will hold for her, but we hope with support and access to the specialist services the funds will now provide, she can start to enjoy life more."
The family's lawyer, Laura Ralfe, said: "Olivia's family have shown tremendous love and dedication in ensuring she has the best quality of life possible but we hope the settlement now gives them peace of mind that whatever the future holds, Olivia will be given the best possible care."
A spokesman for the Royal Wolverhampton NHS Trust said: "We have worked hard to reach a settlement which will provide for Olivia's care.
"We have apologised to Olivia and her family and offer them our best wishes for the future."