Vandals made to pay for graffiti at Wolves training ground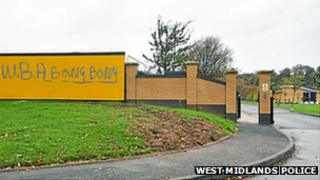 Two vandals have been made to pay to clean up rival graffiti they sprayed on a wall at the Wolverhampton Wanderers training ground.
The men, 28 and 38, who are believed to be West Bromwich Albion fans, were arrested on Tuesday after an online video showed them spraying the wall.
Police said they admitted causing the damage at the Sir Jack Hayward ground.
The football club had asked for the men to pay for the clean up as punishment, police said.
The club has also accepted a written letter of apology from the men, the force said.
The pair were pictured in the video, which was posted on Facebook, spraying "W.B.A Boing Boing" on the wall in Compton.
Supporters of West Brom jump up and down chanting 'boing boing'.
PC Ben Clay, from West Midlands Police said: "We have been working closely with the club and it is their wish that we deal with this by way of a community resolution."