Man guilty of pensioner's Willenhall flat fire death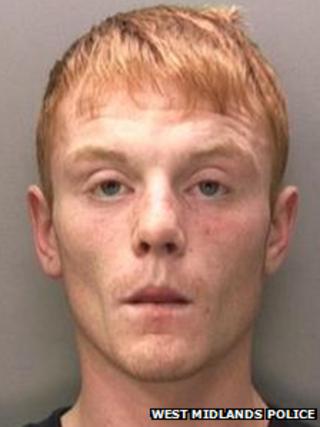 A man who set fire to a block of flats killing a 68-year-old man has been found guilty of murder.
Aiden Elmore, 20, set fire to wheelie bins that he used to block the rear exit of the building in Southey Close in Short Heath, Walsall last October.
Victor Moore died after being trapped in a foyer and was overcome by smoke.
Elmore, from Essington Road in Willenhall, will be sentenced at Wolverhampton Crown Court on Tuesday.
He was also found guilty of two counts of arson with intent to endanger life.
The court heard that Elmore had been drinking heavily and taking drugs on the night of 8 October after splitting up with his girlfriend.
50 people evacuated
The force said Mr Moore's body was discovered in a communal foyer area of the three-storey block and a post-mortem examination confirmed he died from exposure to the fire.
Investigators believe he tried to get through the foyer doors but found them welded shut due to the intensity of the heat, police said.
The court heard 50 other people had to be evacuated and some of those jumped to safety from windows, including one woman who broke her ankle.
Elmore also set fires in gardens in nearby Crab Lane and at the home of his girlfriend's mother in Wychbold Close where he set wheelie bins alight next to patio windows.
He had denied setting the fire at Southey Close, but after being shown CCTV pictures of him igniting the bins he admitted being reckless but denied intending to harm anyone.
Det Sgt Mick Ross said: "His actions were a clear attempt to cause people serious harm.
"He positioned bins against doors, barring residents' likely exit route and forcing people to jump for their lives from windows."