Birmingham bus beams live CCTV images to police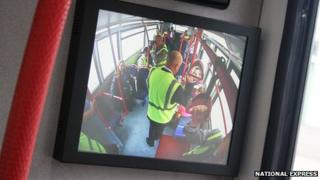 Crimes on board a bus are now being filmed and streamed live to police.
The new "Trojan" bus can send high-definition CCTV footage to a tablet computer in an unmarked car following behind, West Midlands Police said.
Officers select the Birmingham or Black Country route they want to target and use the special double-decker bus, which is run by National Express.
The pilot project, funded by National Express, follows two fatal stabbings on buses in the city in the past year.
Teenager Azim Azam, from Billesley, was found collapsed in the street after getting off the number two bus in Moseley in September. A 17-year-old youth from Kings Heath, is charged with his murder.
In March, Christina Edkins was fatally stabbed on the number nine bus as she travelled to Leasowes High School in Halesowen, two weeks after her 16th birthday.
Phillip Simelane, from Walsall, was detained indefinitely under the Mental Health Act last month.
'Quite amazing'
Jack Kelly, from National Express, said such tragic incidents were rare and the bus would be able to be used to tackle a number of issues including vandalism and graffiti.
Police say they believe they will use the bus each week.
In 2008, Transport for London conducted a similar six-month trial of live streaming CCTV footage but did not take it up full time.
More than 100 National Express buses in the West Midlands have been fitted with high-definition cameras, although the Trojan vehicle is only one capable of streaming live footage.
Window sensors also trigger the Trojan bus cameras to film them if they are being vandalised.
Some of the cameras, which stream footage the whole time the bus is in operation, are hidden, Mr Kelly said.
"The [Trojan] bus will go around the city... you cannot tell it apart from any of the other buses, it's quite amazing," he said.
"The police will say where they would like it to go on a given day and can watch the footage.
"Other times it will be used as normal - hundreds of of people in the West Midlands will have been on this bus already without even knowing it - and if there are no incidents reported by the driver then that's good.
"It's a Rolls-Royce when most of the time you need a Focus but it's great to have that option."
Ch Insp Ian Green said it was hoped the technology would be rolled out to other buses once the pilot project had been assessed towards the end of the year.