Newborn baby girl found abandoned in Birmingham park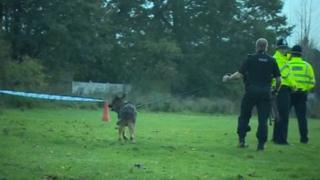 A newborn baby has been found abandoned in a park in Birmingham.
The girl, who weighs about 6lbs (2.7kg), was found in a bag wrapped up in a towel at the community park off Stuarts Road in Stechford at about 14:00 GMT.
She was found by a dog walker and taken to hospital by paramedics.
Ch Insp Ian Green, from West Midlands Police, said the baby was thought to be about 24 hours old and was "recovering well" in hospital.
'Shocked and petrified'
He said: "It was a member of the public's dog that was attracted to some bushes and inside a carrier bag the baby was found."
He said the baby was wrapped in a light blue towel, inside a carrier bag from The Entertainer toyshop.
She was taken to Heartlands Hospital where she will continue to be treated, police said.
Lesley Newman-Brown, who lives opposite the park, said she spoke to the man who found the baby.
"He was shocked and petrified. You could see it in his face. He's a hero as far as I'm concerned," she said.
Gordon Sheppard, who lives close to the park, said the man spoke to him immediately after his dog had found the baby and described him as being visibly "shocked and upset".
Ch Insp Jack Hadley said: "Now that we know the baby is safe and in the care of professionals, our priority is to find mom.
"She may be in need of urgent medical attention and we need her to contact us as soon as possible."
A police spokesman said the park was well-used and the baby was believed to have been there for about 30 minutes before being found.
The West Midlands Police helicopter and dog teams were later used in the hope of locating the girl's mother.