Dudley school staff unpaid through 'unforeseen fault'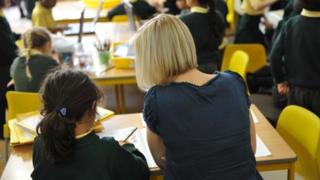 A council has apologised after an "unforeseen fault" left 6,500 school staff unpaid.
Dudley Borough Council said they became aware of the technical issue after staff complained to their human resources team.
The council said it was working to fix the problem and staff should have the money in their bank accounts by Monday.
They said they would provide financial assistance to staff most in need.
'Very concerned'
Martin Lynch, the National Union of Teachers' branch secretary for Dudley said members were "very anxious" about the situation.
"People have gone to their bank accounts and found there's no money in them," he said.
"Clearly we are very concerned about that. We hope and expect the council will fix this as soon as possible."
Councillor Gaye Partridge said: "We have a series of measures we are going to put in place to help anyone struggling financially over the next 48 hours.
"If anyone has any difficulties, they can ring us at the council and we will do everything we can to help them.
"We apologise to staff for any inconvenience and we will get this sorted out as quickly as we can."