West Midlands Police plans 550 more frontline officers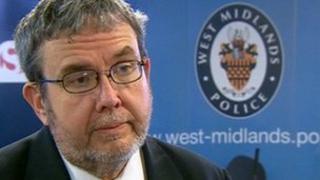 Up to 550 extra police officers could be operational in the West Midlands, under plans by the police and crime commissioner.
The West Midlands force, the second largest in England and Wales, has seen 2000 posts cut since 2010.
Labour PCC Bob Jones said more frontline officers were now needed to combat crime.
He said the extra officers would be funded by £60m of reserves as well as a rise in council tax.
Under the proposed increase in the police precept, an average band D property would see a rise of just over £3 a year.
The same increase was seen earlier in the year, with the precept on a band D property going up to £102.43 a year, which the PCC said was still the second lowest in the country.
In July, Mr Jones announced plans for 100 additional staff to free up officers for frontline duties.
'Vicious circle'
Those proposals have now been strengthened.
The latest plans, which will be presented to the Strategic Policing and Crime Board on 5 November, will see a further 450 officers recruited over the next two financial years.
Mr Jones said: "We haven't recruited any new officers since 2010. I think we can only go on for so long without recruiting new officers.
"Since April, along with the rest of the country, the majority of police areas have seen an increase in crime and I think we're rapidly reaching a point in the near future where we're in real danger... of having to take police away from the activity of keeping crime down and therefore a vicious circle.
"The problem with reserves is that you can only use it once.
"But hopefully it gives us some breathing space to try and deal with some of these wider issues, ways to use technology to enable us to work smarter in the future and hopefully getting a decent deal from government."
The proposals will go out to public consultation until the end of December.
They have already been welcomed by the West Midlands Police Federation.
Its chairman, Ian Edwards, said: "Any additional officers is fantastic news. It's great for the public and great for the police.
"You can only do so much by working smarter. At some point you need new blood and an increase in numbers.
"There has been greater pressure on officers and increased sickness levels, so this is really welcome news."
The force currently employs some 7,500 officers and almost 3,800 other staff, including Police Community Support Officers.