Arts project for Longbridge factory site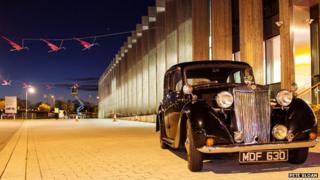 A public arts project is due to launch later on the site of a former Birmingham car factory.
About 6,000 jobs were lost when MG Rover's plant at Longbridge closed in 2005.
A new £1bn town centre is under construction on the site, the first phase of which was opened two months ago.
A 12-month arts project, backed by more than £370,000 of funding, will be staged at Bournville College.
The opening event will see performances by Aston Performing Arts Academy, as well as light installations featuring MG cars.
The show will also mark the centenary of Bournville College, which is now based at Longbridge.
Birmingham-based EC Arts will lead the year-long scheme which it said would see nine artists creating new work.
'Sense of pride'
Car production returned to Longbridge in 2011 with new owners Shanghai Automotive Industry Corporation (SAIC), although plans to build a new town centre will also see homes and shops built on the 468-acre site.
Claire Farrell, director of EC Arts, said it would help "create a sense of ownership, a sense of pride and contribute to the identity of the future of Longbridge".
She said the scheme would be inspired by the history of the area.
Two artists will be based at SAIC's MG Motor UK plant and work with both current and former factory workers to develop artwork.
While some art will be on temporary exhibition, others will remain in the new town centre.
Longbridge will also host an annual light and sound festival from 2014, inspired by a similar event in Lyon.
Ms Farrell said the "world class" event had become a major economic driver for the French city, which is twinned with Birmingham.
"We want to similarly support the local economy and create Longbridge as a destination," she said.