Mohammed Saleem murder: Family still 'cannot move on'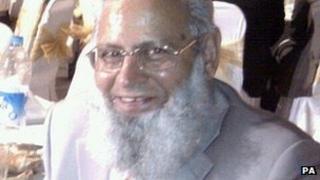 The family of a Muslim man murdered by a Ukrainian student have said the reality of his violent death is "impossible to accept".
Pavlo Lapshyn has been jailed for at least 40 years for the murder of 82-year-old Mohammed Saleem and for plotting explosions near mosques in racist attacks.
Mr Saleem, a grandfather of 22, was stabbed in the back on his way home from his local mosque in Small Heath, Birmingham, in April.
Sentencing Lapshyn at the Old Bailey, the judge, Mr Justice Sweeney, read a victim impact statement from Mr Saleem's daughter, Shazia Khan.
She said the effect of her father's violent death had been "a rollercoaster experience where the ride will never end".
"The shock and sadness of the reality is impossible to accept, yet alone accept and move on," said Ms Khan.
"We can't move forward, the murder has disabled our minds in every emotional way possible.
"Dad did not die of old age or illness, he died because he was stabbed violently in the back by a gutless coward who did not have the courage to face him before he took his life away."
Wife 'blames herself'
Ms Khan said her mother could not accept the death of her husband of more than 50 years, and was haunted by thoughts that she could have saved him.
"Our mother weeps to this day. She was minutes away from him. She could have saved him and she will always blame herself for this.
"She will not accept that the circumstances were out of anyone's control."
Mr Saleem's son-in-law, Hanif Khan, said: "We've got 40 years but we've lost a beloved person. It's hard to come to terms with.
"Forty years is still a long sentence. We have to respect the judge, he summed up the case very well and we respect his authority in this matter."
He added: "We hope that the legacy is that it's brought us together in unity and that it sends a message out that we are a very tolerant people.
"People like that have no place in society. I hope that message is carried out to everybody who sees this case."