Scheme to reduce congestion on A452 Chester Road approved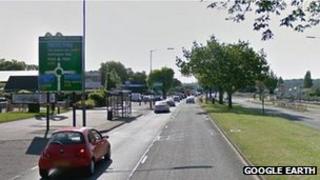 An £11m scheme to reduce congestion on Chester Road in Birmingham will start next year after being approved by the government.
Parts of the A452 will be widened to three lanes and new traffic signals will be installed. Improvements will be made to the M6 Junction 5 roundabout.
About 40,000 vehicles use the road each day, Birmingham City Council said.
The government will contribute £8.2m to the project with the city council funding the rest.
As part of the plans, a new junction with traffic signals will be built between Chester Road and Berrandale Road.
Sections of the dual carriageway between the Fort Parkway roundabout and Kingsbury Road roundabout will be widened to three lanes.
Transport Minister Baroness Kramer said the scheme had been approved because it would improve car and bus journey times and improve pedestrian and cyclist safety.
Birmingham City Council said work would begin next year and would be completed by 2015.
Councillor Tahir Ali said: "Delays on Chester Road have been causing real issues for businesses which discourages further investment to the area."