Mosque bombings: Mohammed Saleem murder police 'blinkered'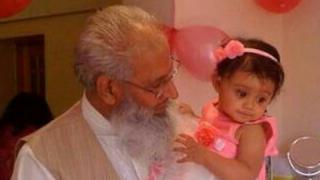 Police hunting the murderer of a Muslim grandfather spent 10 weeks on a "wild goose chase" investigating whether his own son killed him, his family say.
White supremacist Pavlo Lapshyn was jailed for at least 40 years for killing Mohammed Saleem and planting bombs near three West Midlands mosques.
Police initially focused their inquiry on his son after another man, Jafran Jamil, made a malicious statement.
One of Mr Saleem's daughters said she believed the force became "blinkered".
Mr Saleem's son, whose name has not been divulged, was never arrested but was questioned extensively by police, his family said. The grandfather of 22 had seven children - five daughters and two sons.
The 82-year-old was stabbed to death in April. West Midlands Police said they spent more than 10 weeks following this line of inquiry but pursued other leads after inconsistencies were found in the statement made by Jamil.
'Sensitive investigation'
Jamil, of Victoria Street, Bordesley Green, Birmingham, was jailed on 12 September for three-and-a-half years after admitting perverting the course of justice.
Mr Saleem's daughter, Shazia Khan, said she did not know Jamil and did not know why he made the false claims.
"The witness told police my dad was with someone who was a member of the family at the time he was murdered," said Mrs Khan, a 45-year-old teacher from Harrow in north-west London.
"After that they were blinkered in their vision. They refused to keep an open mind. They wasted time on a wild goose chase and would not listen to what we had to say.
"We could have got him [Lapshyn] a lot quicker if they had been focused."
Det Supt Mark Payne, of West Midlands Police, said: "With any large-scale investigation such as a murder, people known to a victim are always subject to questioning during an inquiry.
"This obviously can include a victim's family. This is just one element of an investigation and is carried out as sensitively as possible."
Lapshyn was sentenced at the Old Bailey on Friday after admitting Mr Saleem's murder and plotting to cause explosions near mosques in Walsall, Tipton and Wolverhampton, in June and July.