Pavlo Lapshyn: Should Cobra have discussed mosque bombings?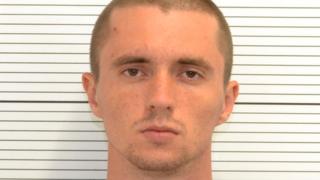 A white supremacist has been jailed for life with a minimum of 40 years after he admitted murdering a Muslim grandfather and planting three bombs outside West Midlands mosques.
But many Muslims say they believe the government response to Pavlo Lapshyn's one-man hate crusade was inadequate.
When Fusilier Lee Rigby was killed with a machete in London on 22 May, it did not take long for Whitehall to make its move.
Tweeting three hours after the attack, Prime Minister David Cameron said: "The killing in #Woolwich is truly shocking - I have asked the Home Secretary to chair a Cobra meeting."
The government says the aim of Cobra is to bring together ministers, civil servants, police and intelligence officers to provide effective decision-making and rapid co-ordination to high-profile incidents.
But there was no such meeting after Lapshyn detonated bombs outside mosques in Walsall, Wolverhampton and Tipton during the summer.
'World stopped'
Birmingham councillor Waseem Zaffar has said he was "appalled" and "shocked" a Cobra meeting was not called while Labour MP for Perry Barr Khalid Mahmood branded it "disgraceful".
"You expect that, when something like this happens, the government will take it seriously but the truth is it was not," said Mr Mahmood.
"No-one decided to do anything and I think it's disgraceful.
"In other circumstances - had we not been dealing with an attack on Muslims - there would have been a meeting to bring everyone together. It was only because of the hard work of local officers that this man was caught."
'Different circumstances'
Dr Alexander Smith, an expert on religion and politics at Warwick University, said questions needed to be raised about why a Cobra meeting was not called after the bombings.
He said: "If the government felt Lee Rigby's death warranted a Cobra meeting, then maybe a similar meeting should have been called in the case of the mosque bombings."
Fazia Saleem, whose father Mohammed was stabbed to death by Lapshyn before he embarked on his bombing campaign, said: "It was only a few weeks ago Theresa May visited the mosque. It was not treated on anything like the same level.
"If a Muslim had carried out this attack, it would have been treated very differently."
The Home Office said Cobra was one of a number of tools used to co-ordinate a response following an emergency.
Despite Cobra not being convened, the government said it was in constant communication with the counter terrorism unit and other agencies throughout.
Security Minister James Brokenshire, who visited the mosque in Tipton on 23 July, said the bombings were taken seriously.
He said: "Following the abhorrent attacks in the West Midlands, police security advisers visited more than 200 mosques and Islamic centres to give advice on security, and extra police patrols were deployed in other areas of the UK.
"The home secretary and I were in regular contact with [the] West Midlands Counter Terrorism Unit to ensure that every effort was being made to investigate these terrorist crimes and to protect British Muslims.
"We are taking action to tackle hate crime and in September the government's Taskforce on Extremism committed to address the issue of anti-Muslim extremism in the UK."