Birmingham Royal Ballet to refurbish Thorp Street studios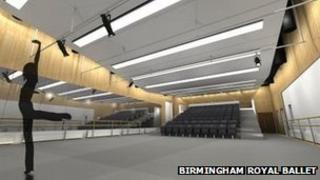 Birmingham Royal Ballet is to spend £2.7m revamping its city centre rehearsal rooms.
The dance company is to install new mirrored studios and offices at its Thorp Street base which it says had been "untouched" for 23 years.
The plans also include fitting solar panels to help power the building.
It has been given an Arts Council grant of £1.85m and said it hoped to raise the rest of the money from fundraising and private sources.
The company said its studios, based in the city's Hippodrome complex, had remained untouched since moving there from London in 1990.
Chief executive Christopher Barron said the new studios would be "world class to attract the best talent to Birmingham".
He said: "It will enhance our scope for rehearsing and staging large-scale ballet and provide outstanding facilities to attract, retain and care for elite dancers."