Seven held after sheep found tied with shoelaces in M6 van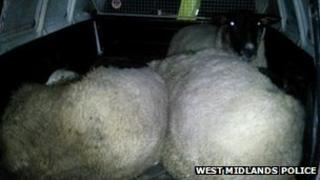 Seven men have been arrested after police found sheep tied together with shoelaces in a van on the M6.
Police believe the three animals, whose identity tags had been ripped from their ears, were intended for illegal sale.
The sheep, tied together at the legs, were crammed in the back of a van at junction 5 of the M6, police said.
Two men were arrested on suspicion of theft, and five were arrested on suspicion of conspiring to steal.
"We are still establishing why the sheep were there and where they had come from," a force spokeswoman said.
The sheep were handed over to the RSPCA but one animal later died as a result of its ordeal, the spokeswoman added.