Luke Ayres jailed for life for killing girlfriend's stepfather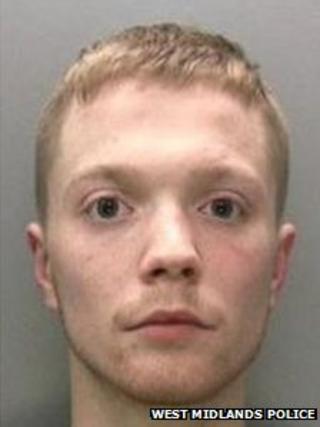 A man has been jailed for life for stabbing his girlfriend's stepfather to death in Birmingham.
Luke Ayres, 21, of Sir Hiltons Road, West Heath, knifed Marcus Wye at flats in Druids Heath in April.
Birmingham Crown Court was told Ayres had threatened to stab Mr Wye, 41, in a fight six weeks earlier.
Ayres pleaded guilty to manslaughter on grounds of diminished responsibility and was jailed for life with a minimum term of six-and-a-half years.
Police said psychiatric experts had diagnosed him as suffering from a mental illness at the time of the killing.
The court was told Ayres and Mr Wye had had an argument after Ayres went round to his flat on 5 April.
'Catastrophic consequences'
The jury heard that Ayres told a friend he would stab Mr Wye "if he grabs me again" following an argument between the two in February.
Police found Mr Wye slumped on a stairwell on the eighth floor of Drews House in Netheravon Close at about 22:30 GMT on 5 April.
He was declared dead a short time later.
He had been stabbed eight times including once in the heart.
Armed police arrested Ayres in Redhill Road, West Heath, on the same night when he was found to have traces of blood on his jeans.
The hunting knife used in the attack was later recovered by officers in Leydon Croft, Walkers Heath.
Sgt Mike Griffiths said: "There was considerable animosity between the defendant and his victim which came to a head."