University of Birmingham report calls for savings support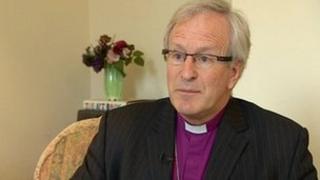 A not-for-profit organisation should be created to represent the interests of savers, according to a new report.
It also calls for financial incentives to encourage those on low incomes to save money, rather than turn to payday lenders.
The Birmingham Policy Commission report is due to be presented in parliament later.
It is urging the government to do more to help everyone increase savings to halt a "spiralling debt crisis" .
The report acknowledges that building savings is difficult for those on low incomes, but says "if people can afford to repay a loan, this suggests that they could afford to save".
Chair of the commission, the Bishop of Birmingham the Right Reverend David Urquhart, said: "Payday lenders are preying on some of the most vulnerable in society.
"The less well off used to save hard for things they wanted, but today's society puts everything on credit and serious problems occur when those loans have to be repaid.
"We need to persuade more people to save, even if it's very small amounts and policy makers need to grasp the nettle to reverse the escalating debt crisis."
An estimated two million people in the country use payday loans.
The commission, based at the University of Birmingham, has also called for more funding for credit unions and debt advice services.
'Feel ashamed'
Angela Clements, chief executive of Birmingham's City Save credit union, said people approaching them were always set up with a savings plan alongside their loan repayments, including those relying on benefits.
"A lot of people feel they can't save and are shocked themselves when they do manage it, even if it's small sums," she said.
"Approaching Christmas, people are often amazed when they've saved £100 or £200, for the first time in their lives.
"In our experience people do want to save if you can make it easy for them.
"When I was young you could go along to a building society with your savings book and put in £5 without feeling ashamed.
"But today there is a lot of shame attached to paying in small sums."
Commission member Dr Paul Cox said a not-for-profit organisation representing savers could be funded by a flat £1 charge on all UK investment trades over £10,000.
"An organisation that serves savers' interests has to be established if value for money is to be secured for the millions of working adults who are starting to save through pension auto-enrolment and their desire to provide for their future."
The report, entitled Sharing Our Good Fortune: Understanding and Responding to Wealth Inequality will be presented in Westminster at 18:00 BST.