Pavlo Lapshyn trial: Police 'thought bomb was car backfiring'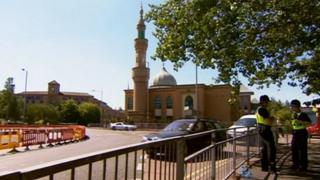 Police called to reports of a loud bang outside a mosque initially dismissed the sound as a car backfiring, a worshipper has said.
But the sound was caused by a bomb planted by Pavlo Lapshyn, who has admitted killing a grandfather and causing explosions outside three West Midlands mosques.
At the Old Bailey, the self-confessed racist, 25, pleaded guilty to Mohammed Saleem's murder, as well as plotting to cause explosions near mosques in Walsall, Tipton and Wolverhampton in June and July.
West Midlands Police has admitted the initial police response "could have been more thorough".
Iftikhar Ahmed, a committee member at Wolverhampton Central Mosque, said they dialled 999 on 28 June as soon as the explosion was heard.
Anti-terrorism unit
But the bomb was not found until three weeks later - the night Lapshyn was arrested.
"I think there is a case to answer about the [police] inspection of the first bomb," said Mr Ahmed.
"Nothing was done. It was a 30 second walk around and that was it. One - maybe two officers."
But he added: "Afterwards they were impeccable, very professional response. And even if they had detected the initial device they probably wouldn't have found the man any quicker."
Lapshyn left the bomb on the Five Ways Island, near to Wolverhampton Central Mosque, in Waterloo Road, on 28 June but it was not found until 18 July.
West Midlands Police Assistant Chief Constable Marcus Beale said: "We did receive a report of a bang being heard and officers were sent to the scene.
"In hindsight, the initial police response could have been more thorough - but at that stage there was no suggestion the noise was down to an explosive device.
"As soon as information emerged that the bang could be suspicious, specialist forensics search teams were deployed and recovered component parts of an improvised explosive device on the roundabout near the mosque."
Bombs were also detonated outside mosques in Walsall and Tipton on 21 June and 12 July.
Mr Ahmed said there were "heightened tensions in the area" after the Walsall bomb.
"We started to really worry, because we regularly get a couple of hundred children. It's a well-attended mosque and very much a multi-national mosque.
"We get people from the Far East, from the Middle East, indigenous people of course, even regularly some people from the USA - and that's always been the case. People travel from Shrewsbury."
He described the government response after the bombs as "poor".
"The prime minister and others had the right response for Lee Rigby, which I agreed with," he said.
"But the response was poor [after these bombs]. If these had been placed by bearded Muslim men, Cobra [the government's emergency committee] would have been enacted and the country's media would have descended on us.
"Instead the media almost had to be pushed into coming along."
Police previously said while officers failed to discover the Wolverhampton device, a specialist team from the anti-terrorism unit brought greater "experience and expertise" to the search about three weeks later.