Pavlo Lapshyn's 90 days of terror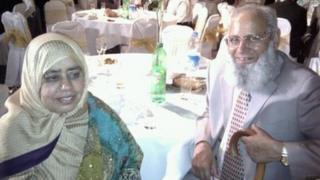 A racist man who murdered a Muslim grandfather within five days of coming to the UK from Ukraine and then planted bombs outside mosques in the West Midlands is facing a life sentence. But who is Pavlo Lapshyn and what was his motive for carrying out a 90-day campaign of terror?
During his police interviews, the Ukrainian student made no secret of his motive. "Racism," he said. "I would like to increase racial conflict because they are not white and I am white."
The software engineer had only been in the UK for five days when he stabbed to death Mohammed Saleem on the streets of Small Heath in Birmingham. He went on to launch three bomb attacks on mosques - and detectives believe he would have done it again had he not been discovered.
Lapshyn's journey to a conviction for murder began when the PHD student specialising in technology of machine-building won a competition for a work placement with Delcam, a specialist software firm in Birmingham.
He arrived on 24 April and moved into an apartment on the industrial estate where the company is based - right in the heart of Small Heath, one of Birmingham's most ethnically diverse areas.
Just a few streets away lived Mohammed Saleem. On 29 April the 82-year-old grandfather was walking home from evening prayers.
He was just yards from his front door when Lapshyn attacked from behind, stabbing the pensioner three times.
His daughters said that it was clear from the start that he had been the victim of a premeditated attack on an elderly Muslim man.
"My Dad was a well-loved man," Shazia Khan told a news conference. "He was respected by everyone in this community. We all have the right to feel safe and nobody should have to go through this.
"The inflictions and brutality that he had to suffer - he was an elderly man. It is just unbearable, unbelievable. We cannot even comprehend what he must have gone through."
Bomb plans
Police released grainy CCTV video of a white man running from the scene but nobody knew who he was. And alone in his isolated apartment, Lapshyn had already switched to new plans. He built three bombs - each increasing in size and capability.
The first, hidden inside a child's lunchbox, exploded outside Walsall's Aisha Mosque on 21 June. Worshippers were inside at prayers and nobody was hurt but it still led to the evacuation of 150 people from nearby homes.
Lapshyn pleaded not guilty to causing an explosion likely to endanger life at that mosque. But he did plead guilty to preparing acts of terrorism, including in relation to that device.
Another device, on 28 June, targeted Wolverhampton Central Mosque. People reported hearing a loud bang but the bomb was not discovered by police until three weeks later.
The most powerful device, which Lapshyn packed with 600 grams of nails - 25mm long - exploded outside the Kanzul Iman Masjid mosque in Tipton on 12 July.
Lapshyn pleaded guilty to causing this explosion which the court heard could have killed somebody.
The bomb could have killed people in the busy car park, it heard. But prayers at the mosque had been put back an hour because of Ramadan.
It was the week before an English Defence League demonstration was due to take place in the region and Waste Zaffar, Birmingham City Council's cabinet member for Community Safety said Muslim communities felt under attack.
"Communities were scared," he said. "Communities were fearful of what was going to happen next."
Breakthrough
But West Midlands Police were struggling to make progress in what Det Supt Shaun Edwards said was an extremely difficult investigation.
"No witnesses, very little forensic evidence," he said. "Poor quality CCTV. Despite lots of appeals and a £10,000 reward offered through Crimestoppers, we had practically nothing."
Firefighters had even been drafted in to recover nail fragments embedded in trees at the Tipton blast, in case they yielded vital forensic leads.
Then the police had a breakthrough. Officers spotted a man on CCTV walking towards the Walsall mosque carrying a lunchbox. CCTV footage later linked the suspect to the still-unknown Lapshyn on a bus in Small Heath.
Ultimately, they traced the man back to the industrial estate where a Delcam employee confirmed his identity.
Delcam's chief executive Clive Martell confirmed Lapshyn was on a temporary work placement at the firm. He said the company had cooperated with police inquiries and had been "shocked and saddened" by events over the summer.
When police searched Lapshyn's apartment, they found computer files confirming his extremist mindset and online bomb research.
Lapshyn had bought chemicals and a coffee grinder to prepare devices. He had also adapted three mobile phones to act as timers. Everything for the bombs had been bought over the internet, from market stalls or local supermarkets.
When police officers asked Lapshyn why he had attacked Mr Saleem, the student said: "I have a racial hatred so I have a motivation, a racial motivation and racial hatred."
Det Supt Edwards said: "He's been described by colleagues who interviewed him as calm, calculated and committed. His hatred of what he described as non-white people and his knowledge of how to [build] bombs, all put together, made him extremely dangerous."
Lapshyn acted alone but police don't know whether he had formed his plans before coming to the UK.
"At the moment we are still making inquiries with the Ukrainian authorities," said Det Supt Edwards.
"We have no evidence that he pre-planned or specifically targeted Mr Saleem. It would appear that he targeted him tragically because he was in the wrong place at the right time [for Lapshyn's plans]."
Evidence has however emerged from Ukraine about Lapshyn's mindset and past.
Lapshyn published a reference to an extremist neo-nazi text on his Russian-language social media page before coming to the UK - and a reference to it was found on his computer in Birmingham.
And three years ago Lapshyn was investigated in his native city of Dnipropetrovsk over mishandling explosives which damaged his flat. He told local police that he had been experimenting with chemicals for scientific purposes. He received a fine.
Mr Saleem's family remains dissatisfied with the way the police initially handled the inquiry.
Other Muslims in the West Midlands have questioned the government's response to the murder and the three mosque attacks, comparing it with how the government dealt with the street-killing of Fusilier Lee Rigby weeks later.
"The fact that a Cobra meeting [of ministers and security chiefs] wasn't called is not only appalling but shocked me to bits," says Waseem Zaffar of Birmingham City Council. Pavlo Lapshyn was a "calm, calculated and committed" killer, motivated by the hatred of anyone who wasn't white.