John Anslow escape suspect tells court he was in bed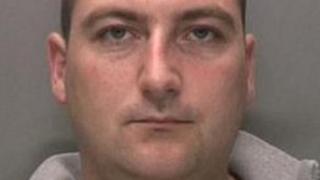 One of the men accused of breaking a criminal out of custody from a prison van has told a court he was in bed at the time the alleged murderer escaped.
John Anslow, 33, was on his way to court in Stafford in January 2012 when he was freed from a secure van by armed men wearing balaclavas.
Daniel Morgan, 29, is one of six men accused of conspiring to free him.
Anslow was on the run for more than a year after he escaped en route to HMP Hewell near Redditch in Worcestershire.
There was extra security at Woolwich Crown Court as Mr Morgan, of Parkeston Crescent, Birmingham, gave his evidence.
He told the jury that at the time of the escape, which was at about 08:20 GMT, he was in bed, not leaving his house until 10:39 GMT.
Prosecutors claim Mr Morgan was one of three men who pulled in front of the prison van and threatened the drivers with sledgehammers and a shotgun.