Helicopter thermal imaging leads to cannabis factory conviction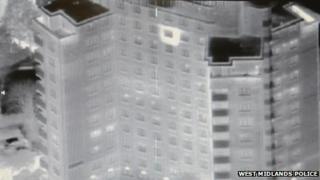 Heat-sensitive cameras on board a helicopter led to the detection of a large scale cannabis growing operation, West Midlands Police has said.
"Unusually high" temperatures at a home in Nechells, Birmingham, were spotted by thermal imaging equipment.
Police found 143 plants with the potential to yield drugs with an estimated street value of £30,000.
Benjamin Edwards, 28, was given a suspended prison sentence at Birmingham Crown Court for cannabis production.
He was sentenced to two years in prison, suspended for 24 months, and must attend a three-month drug rehabilitation course.
He was also made subject of a two-year supervision order and told to pay £100 costs.
The flat where Edwards lived had been modified to accommodate light, irrigation and ventilation systems.
Martin Knowles, deputy air operations manager for West Midlands Police, said: "Our thermal cameras can detect unusually high temperatures coming from properties several thousand feet away.
"Anyone growing cannabis on a commercial scale, using rows of heat lamps, runs the very real risk their criminality will be rumbled from the skies."