Big Issue founder questioned future after Birmingham deaths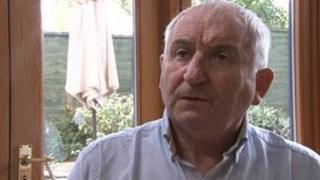 The killings of two sellers of The Big Issue "almost destroyed" the organisation's "belief in ourselves", its founder has said.
Wayne Busst, 32, and Ian Watson-Gladwish, 31, both homeless men from Birmingham, were stabbed in Union Street in the city centre on 11 January.
John Ward, 23, of no fixed address, denied murder but admitted manslaughter on the grounds of diminished responsibility. He was given a minimum tariff of 12 years.
The Big Issue founder John Bird said following the deaths, there were a number of people at the magazine organisation who said it "can't leave people in this situation".
He added: "I found it very difficult because being the person who put the whole thing together, I thought... maybe I shouldn't have bothered.
"When we thought about it, obviously when you've got 22 years [of The Big Issue] and you look at the amount of people who have been injured and hurt and the people who have been killed, it's a very small amount for that amount of time.
"But every time somebody gets attacked or murdered, you do stop and think. It wouldn't be human not to stop and think 'isn't there another way to do it?'"
'Incredibly dangerous'
The magazine is sold on the streets by homeless people, who themselves have to initially buy the copies for 50% of the cover price. The intention is that the vendors earn money but also take charge of their finances, develop coping skills and boost their self-esteem.
But Mr Bird said the charity was now "building other ways" of working with homeless people by "turning them into content providers" for The Big Issue's digital magazine.
"So some people could come to us and say 'we want to do things but we don't want to sell on the streets'," he said.
"The streets are incredibly dangerous. They always have been. They always will be. But the way in which The Big Issue has rallied I think is exemplary.
"The public were enormously supportive of our staff and our vendors, so we kind of weathered it, but it raises very big issues that I've been working on for a few years because I'm an ex-runaway and rough sleeper and I knew how vulnerable it was [on the streets]."
Mr Bird said staff took what happened "very, very badly" and the organisation "had to do a lot of hand holding because they knew the vendors very well".
The Big Issue runs "a very tight" street support service, he added, but it was "very difficult to protect people from the public".
The magazine founder said: "I don't know what else we could do.
"We will always be vulnerable to some random person who may have had some great problem in their lives which has led them to become psychotic."
Mr Bird said he used to see people who were mentally ill on the streets and who "are harming themselves and could possibly harm others".
He said: "If I had my way, I'd pick all these people up and take them to a place of safety. I wouldn't put them back in the old asylums.
"I would put them in a place of safety where they don't harm other people and they don't harm themselves."