HMP Oakwood prisoners stage roof-top protest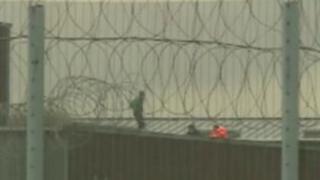 Three prisoners have staged a roof-top protest at HMP Oakwood, near Wolverhampton.
A team of negotiators trained to work at height were called in to help end the demonstration, G4S, which runs the prison, said.
The prison regime was unaffected and there was no danger to staff, prisoners or the public, a spokeswoman said.
It comes after the Chief Inspector of Prisons criticised the prison for failing to tackle drug issues.
The report, published on Tuesday, found inmates said it was easier to obtain drugs than soap at the prison.
Speaking about the protest, Steve Gillan, general secretary of the Prison Officers Association, said: "Our members at HMP Oakwood are working under very difficult conditions.
"Every establishment is under extreme pressure and I blame the government for their reckless and dangerous policies of budget cuts to the prison service, which are too fast and much too deep."
'Unacceptably poor'
The Prison Ombudsman, Nigel Newcomen QC, has also criticised the emergency response by HMP Oakwood prison staff, after one of its inmates stopped breathing.
Edward Ham, 54, was declared dead in his cell, in February.
Mr Newcomen said the way the inmate had been treated was "unacceptably poor" and a summary of his report found staff could not access a defibrillator as it was locked away.
HMP Oakwood opened in April 2012 and houses about 1,600 inmates.
In July, it was one of two private prisons to receive the Ministry of Justice's lowest rating.
The MoJ declined to comment on the protest.